What Are The ADA Inspection Tools Used For Checking ADA Compliance?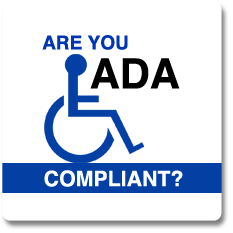 Complying with the Americans with Disabilities Act or ADA is something that all building owners should work at, that is, if they haven't done so already. A single lawsuit from a person with disabilities can be expensive for your business. The first step towards compliance is having the right ADA inspection tools. And what are these ADA inspection tools?
There are two tools that you absolutely need to use even if you are still in the building design stage. One is the ADA survey form, and the other is the inspection tool. These tools are something that you can use alongside the information on accessibility design standards. You can find all of them on the official website of the ADA on http://ada.gov.
You might think that you do not read to read the information there, however, the truth is that there are many in the building industry, especially the designers, who struggle with ADA compliance. A lot of it has to do with the fact that the law is not written as a building code. It only has guidelines that you can follow. With that being said, make sure to read the survey form provided by the ADA. You will find a clickable survey form on this web page http://adaresults.com/Survey-Forms/Doors/Door-ADA-Survey-Form.aspx
When you fill out the form, you will know exactly what needs to be in your building even before the foundation is laid. For owners of old buildings, you will know exactly how to retrofit your building to make it more accessible to people with disabilities. You can then work with your architect and ensure that the plans for the building are ADA-compliant. And when the work is done, you can have the finished building checked by an ADA consultant or ADA inspector.
If it's just one person inspecting, that would person would have a software for building inspections. The software would come preloaded with a template on ADA compliance.
What does it take to make a building accessible? Well, for starters, the building entrance must have a sloping ramp for wheelchairs. The entryways must be easy to open by people with disabilities. There should be a special toilet for the disabled. But these are really the general items. The ADA survey gets into more detail on how a building should be built so make sure to check it out.
About The ADA
The Act is a federal law that is enforced by the Department Of Justice Civil Rights Division. As a complaint-driven law, the justice department enforces it through lawsuits, complaints, settlement, consent decrees, and mediation.
The justice department recently made a settlement agreement with Greyhound Lines. You can find information on processing claims on the ADA website.
Local governments can only encourage the businesses in their jurisdiction to follow the law by giving incentives for compliance and implementing an ongoing information campaign. They cannot approve or reject a building plan based on its compliance with ADA standards for accessibility to persons with disabilities.